Loggerhead Apparel partners with Renowned Wildlife Photographer to raise funds for Sea Turtle Conservation Efforts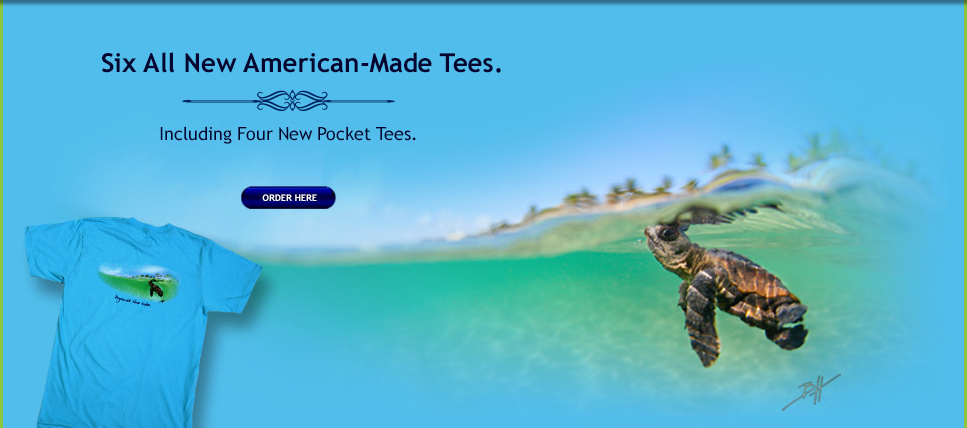 GREENVILLE, SC (May 25, 2014) – Loggerhead Apparel, based in Greenville, S.C., has partnered with renowned wildlife photographer Ben Hicks, based in Boca Raton, FL, to raise much needed funds for the Gumbo Limbo Nature Center, one of Florida's most respected non-profits in sea turtle conservation.
The two collaborated on the 'Against the Tide' t-shirt, which features an iconic photo of a loggerhead hatchling battling the tide to make it out to sea. The hatchling in the photo did not make it to the water when his brothers and sisters hatched, but was rescued by a researcher and released individually. The photo has been featured on National Geographic's website as one of the best photos of 2013.
The 'Against the Tide' t-shirt is symbolic of the struggles sea turtle hatchlings face. While still in the nest, they are targeted by prey such as crabs and raccoons, and threatened by weather and human intervention, causing many to never make it beyond the egg. Once hatched, they must make it to sea quickly before being eaten by birds, crabs and other prey. It is also in that critical crawl from the nest to the sea that many hatchlings are distracted by artificial lighting on the coastline, from beach houses or commercial development, leading them in the wrong direction. While we don't know for sure, this is likely a reason the hatchling in this photo did not make it to sea with the others from his nest.
The struggles don't end there, however. The hatchlings must fight the tide to make it to deeper waters, where it is easier to avoid prey. Even then, the hatchlings must survive for twenty-plus years before being able to reproduce and continue the cycle of life.
"When we first saw this photo, we knew there was something special. It's strikingly beautiful, but also highlights the many challenges a single hatchling will face in its fight for survival," said Sara Painter, founder of Loggerhead Apparel. " It's symbolic of our company's approach – make your own path, and never give up. 'Against the Tide' is such a natural fit for this image, and our mission."
There is something else special about this shirt as well.  It is made entirely in the United States, giving 'Against the Tide' a double meaning. With U.S. manufacturing impacted severely by outsourcing and the economic downturn of the last decade, Loggerhead Apparel commits to producing everything in the United States, from its belts and hats to polo's and tees.
Loggerhead Apparel, which produces all products in the United States, donates ten percent of all sales to sea turtle conservation efforts.  Since 2011, they have donated more than $50,000 to groups across the Carolinas, Florida, Texas and California.
"It is exciting to partner with a clothing line whose mission aligns so closely with mine," said photographer Ben Hicks, who has been one of the country's premier sea turtle photographers for more than a decade. "Sea turtle conservation is incredibly important to me, so this partnership is such a natural fit."
Ten percent of the sale of each shirt will be donated directly to the Gumbo Limbo Nature Center in Boca Raton, FL, a leader in sea turtle conservation efforts in the United States.
To purchase the 'Against the Tide' shirt, visit www.LoggerheadApparel.com to view current retailers or purchase online.
For more information on Loggerhead Apparel, please visit www.LoggerheadApparel.com or follow on Facebook at www.facebook.com/LoggerheadApparel and Twitter at www.twitter.com/LoggerheadApp.
About Loggerhead Apparel
Loggerhead Apparel provides premium, American-grown, American-made clothing and accessories. The concept was born in early 2009 in the minds of two South Carolina natives. One a product of the Low country, who grew up on the coast just north of Charleston, the other a product of the Upstate, the grandchild of mill workers in the textile town of Spartanburg. Their passion for sea turtle conservation efforts and the revitalization of the United States manufacturing industry, led them to found Loggerhead Apparel.
About Ben Hicks
Through his photography, Ben aspires to advance the appreciation for nature and raise environmental awareness by depicting the natural world in an endearing and relevant manner that all individuals can understand and connect with. Ben is particularly focused on using his photography as a medium to communicate the importance of sea turtle conservation, as these magnificent creatures are one of the most important indicators of the health of the world's marine and coastal ecosystems. Ben firmly upholds the Sea Turtle Conservancy's belief that "whether sea turtles ultimately vanish from the planet or whether they remain a wild and thriving part of the natural world, will speak volumes about both the general health of the planet and the ability of humans to sustainably coexist with the diversity of life on Earth." For more Ben's work, visit www.BenJHicks.com.
About Gumbo Limbo Nature Center
Founded in 1984, Gumbo Limbo Nature Center is a unique cooperative project of the City of Boca Raton, Greater Boca Raton Beach and Park District, Florida Atlantic University (FAU), and Friends of Gumbo Limbo. Each year, more than 100,000 local and tourist visitors receive valuable environmental education while enjoying respite from the city bustle.
#   #   #